Annual Conference Sessions & Features 2024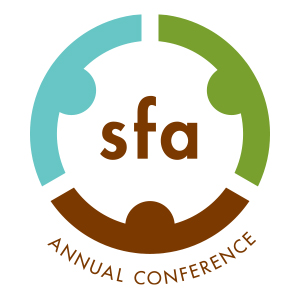 Saturday, February 10, 2024
Gorecki Conference Center
College of Saint Benedict, St. Joseph
Click HERE to return to the SFA Annual Conference homepage for more information and registration.
This schedule is subject to change.
---
Map of Guest Parking and Sidewalk Routes to the Conference Center (PDF)
---
Conference Kids Program  
9:20a.m. - 4:20 p.m.
Ages 5 - 12 welcome.  Children must be pre-registered - NO WALKUPS, please!
You can pre-register your kids when you register online for the conference.
Drop-off is at 9:20 after the Opening Plenary Session.
They will join you for lunch, which is on-your-own, including bring-your-own, or you can get a caterer ticket with your registration.
You will pick up your kids at 4:30 p.m.
Children under 5 are free and welcome at the Conference, but are the responsibility of their parents.
---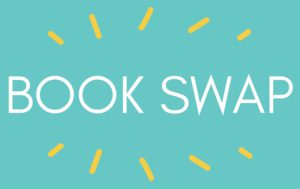 Farm & Food Book Swap
Upstairs Elevator Lobby
Do you have some farming books collecting dust? Looking to get a jump on spring cleaning? Bring them with you to the conference and stop by the book swap table! There you can pass your books forward to other growers and to find some new-to-you reads to take home.
The 100 Farms Soil Health Tests
Natalie Hoidal
Farmer Panel
Time Management for Farmers: Maximizing Your Mindset & Profits (201)
Rachelle Meyer, Wholesome Family Farms
Transform your farming operation using mindset management with techniques tailored for agriculture, allowing you to prioritize tasks, embrace technology, and adapt to seasons efficiently.  Rachelle Meyer, a business and mindset coach for farmers has hands-on experience in regenerative agriculture and direct-to-consumer sales. She,her husband and 7 kids farm over 700 acres, and this session focuses on the practical techniques that they successfully apply on their farm.
A New Opportunity – The Climate Smart Seedlings Production Network (101)
Mary Hammes, Reforestation Strategy Manager, The Nature Conservancy
David Abazs, Northeast Executive Director, Regional Sustainable Development Partnerships
Moderator:  Tyler Carlson, Silvopasture & Agroforestry Project Lead, SFA
SFA is a partner on a new grant from the USDA's Climate Smart Commodities grant program.  Led by The Nature Conservancy, this project will expand upon recent work in Northeastern MN to increase the availability of climate adapted seedlings for reforestation and agroforestry efforts by investing in and organizing a network of small nursery growers across the state.  Attendees will hear about the immense need for climate-adapted seedlings and how this project can help would-be growers with training and networking around growing methods and access to markets.
Sell/Buy Cattle Marketing:Know your cost of gain & find the undervalued class of cattle (301)
George & Anneliese Walker, Walker Farms, Princeton MN
Tips and Tricks for Selling More at Farmers Markets
Dan Zimmerli, Cedar Crate Farm, SFA Specialty Crops Lead
If I Knew Then What I Know Now: Wisdom From Seasoned Farmers, Part 3
Chris Kudrna, Moderator, Plum Creek Garlic
Navigating Forage-based Genetics for Profitable Enterprises (301)
Derek Schmitz, Schmitz Dairy, SFA MN Dairy Initiative Coordinator
Jordan Meyer, Wholesome Family Farms
What makes great forage-adapted genetics?  Join the discussion about what to look for when selecting seedstock, correct animal phenotype, and how we can influence development through epigenetics.  Passionate farmers, Derek Schmitz and Jordan Meyer, specialize in raising 100% forage-fed dairy cattle, beef cattle, goats and other small ruminants for conventional and direct marketing. Their mission is to promote soil health, increase profits, and improve the quality of life for our families and community.
Chilling with Your Garlic (201)
Dr. Cindy Tong, Professor, University of Minnesota Department of Horticultural Science
Dr. Carl Rosen, Professor, University of Minnesota Department of Soil, Water and Climate
Jerry Ford, Director, MN Premium Garlic Project
Do you chill your garlic before planting and after harvest? Should you? Does it affect yields? Cindy Tong and Carl Rosen have been working on a NCR-SARE-funded project titled "On farm evaluations of novel methods to increase garlic marketable yield". They are researching the effects of chilling seed garlic prior to planting on garlic yield. They are also examining how different on-farm postharvest storages affect wholesale/retail garlic quality. Results from the studies thus far will be shared.
Farm Profitability: What Is It and How Do I Get It? (101)
Jared Luhman, Grass-fed Cattle Co, SFA Soil Health & Grazing Lead
All farmers strive for profitability in our farm and ranch businesses, yet many operate at a breakeven or even a loss. In this session we'll define what it means to be profitable, how profit is different from cash flow, and what the three keys are to increasing profitability in our farm and ranch businesses.
"Creative Successes in 'Local': Making the Alternative/Local/Independent/Direct Economy Possible
Mehgan Blair,
Katie Feterl, SFA Communications Director
Pastured Pigs (101)
Dayna Burtness, Nettle Valley Farm, Spring Grove MN
Thinking of getting into pastured pigs? Dayna Burtness of Nettle Valley Farm will introduce the basics of finishing pigs on pasture, including fencing, food/water/shelter infrastructure, finding feeder pigs, and more. This talk will be geared towards folks who currently don't have pigs or those who may raise small numbers but are looking to scale up a bit. 
Pasture as a Profitable Crop (201)
Jared Luhman, Grass-fed Cattle Co, SFA Soil Health & Grazing Lead
Activating Community through
On-Farm Events (101)
Pat Berger, Boreal Bounty Farm, Harvest Star
Erik Hadlestad and Bethany Lacktorin, Clover Valley Farm Fest, Two Harbors MN
Matt Barthelemy, Project Manager, Come and Get It!, Renewing the Countryside
On-farm community events are a great way to engage and rally folks around local foods. RTC's "Come & Get It Project" trained leaders in nine teams across Minnesota to produce successful on-farm events, and all these groups held just such an event in each of their regions. We'll hear from two of these teams about the challenges and rewards of hosting events that included an array of farmers, growers, makers and other community partners.
Understanding the Biological Soil Tests: The Haney, PLFA, TND, and More (101)
Kent Solberg, SFA Senior Technical Advisor
The Lakewinds Food Co-op Social Hour
Upstairs Lobby