Agroforestry & Silvopasture
Managed grazing in woodlands using adaptive forage and forest management
Our silvopasture and agroforestry program researches and teaches the practice of managed grazing in woodlands using adaptive forage and forest management techniques. We work with farmers, agricultural and natural resource professionals and conservationists throughout the state on how to use this regenerative ag practice.
Silvopasture is the intentional practice of managing timber, forage and livestock on the same acres to create income opportunities on often under-utilized land. Using managed grazing techniques, sound timber management and 21st-Century fencing technology, silvopasture offers a great opportunity to help restore the over 660,000 acres of Minnesota woods and forest that are not achieving their full potential for the landowner and society.
For more information, contact: Tyler Carlson, Silvopasture & Agroforestry Project Lead, tyler@sfa-mn.org or 844.922.5573 Ext. 702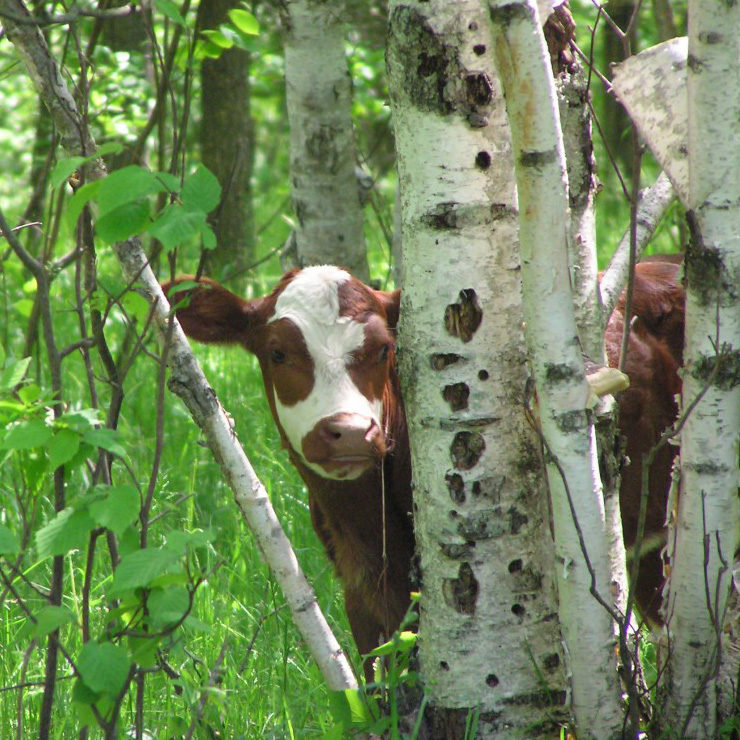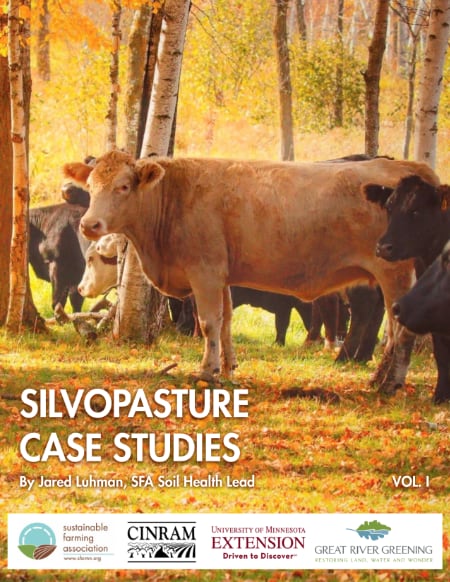 Silvopasture Case Studies
SFA recently published a compendium of five case studies featuring farmers who practice silvopasture and agroforestry. Researched and written by Jared Luhman, SFA's Soil Health Lead, these case studies feature farmers throughout Minnesota who have been using silvopasture practices for three or more years and whose stories offer tangible examples, support, and encouragement to others.
Agroforestry & Silvopasture Events
Check back for upcoming Silvopasture events!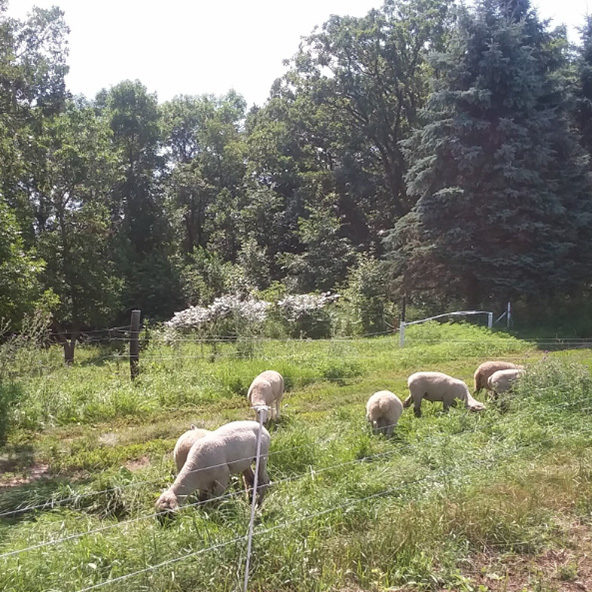 Agroforestry and USDA Webinar Series
Calling all producers, researchers, and technical assistance providers! Join the USDA National Agroforestry Center and guest speakers for any or all of a 10 part webinar series on how different USDA programs can be used to advance agroforestry. Learn more and register for webinars here.
Silvopasture at Sherburne
The Sherburne National Wildlife Refuge in Zimmerman, MN spans 30,700 acres on the Anoka Sandplain, and is largely oak savanna. The refuge is home to a wealth of wildlife diversity, including the sandhill crane, Blanding's turtles, and wild turkeys. And, since 2013, sometimes cattle.
For nearly three years, University of Minnesota researcher Austin Yantes, seasoned graziers Kent Solberg and Doug Voss, and an assortment of other partners have been studying the impact of targeted grazing on vegetation management and restoration of oak savanna at the Refuge. Watch a video of the herd moving to a new paddock at our June 2022 field day.
Agroforestry & Silvopasture Resources
All
Case Studies
Fact Sheets & Reports
Handbooks
Podcasts
Videos
Webinars