Dirt Rich Episode 27: Home on the Tree-Range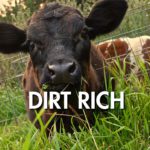 Tony Wells and a few partners are years into developing a regenerative and resilient poultry production system that provides opportunities for small farm profitability, which they've implemented on a 40-acre farm. The model attempts to replicate a forest habitat for poultry, incorporating perennials like hazelnuts and elderberries into a silvopasture system. Not only do the birds enjoy the shade and cover from aerial predators provided by the canopy, but the hazelnuts thrive on the nitrogen-rich chicken manure and offer an additional income stream. Tony says that after 5-7 years, the hazelnuts will make up 30-50% of the farm's revenue.
Years before Tony joined the venture, his partners Wil Crombie and Reginaldo Haslett-Marroquin were working on developing the system. Regi worked with many breeds, researching which would be most suitable for their design. The breed of chicken they've found success with? Aptly, Freedom Rangers.
The goal is for this model to be replicated on other farm sites. "It's really, really hard for one farm to make it on their own and market their own products…it's always going to work better if multiple farms can work together." That's why developing scalable business infrastructure has been a significant part of the venture. Rather than each individual farmer taking the chickens to the processor, the team picks up birds and transports them there. They also handle all the distribution and sales under the Tree-Range Chicken brand.
What started as a curiosity around food production and nutrition—"What goes into food?"—has blossomed into new friendships and partnerships, transplanting from Minneapolis to a Faribault farm, and a new career raising "tree-range" poultry for Tony. "I haven't yet found anything I would rather put my energy towards at this point in my life."