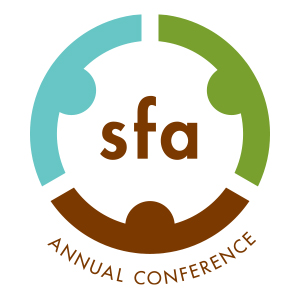 Sharing the Wisdom of the Community
Saturday, February 10, 2024
Gorecki Conference Center
College of Saint Benedict, St. Joseph
Our annual gathering, with topics that you pick, learning and sharing the wisdom of our sustainable community, and lots of social time.
Sessions already in the works:
Experienced farmer track
Emerging farmer topics
Vegetable & fruit track
Successful on-farm events
Local marketing
Stockmanship
Pasture for profit
and much more
Full Schedule coming soon.
And the Night Before Social is back:  Friday, 2/9/24, Minnesota Street Co-op, 6:30 - 8:00 p.m.
Early Bird Registration for SFA Members is Now Open!
SFA members pay only $50 for registration during our Early Bird sale! (Price goes up to $75 on December 16, 2023.)
Members: $50
Non-members: $100
Emerging Farmers: Free
Kids' Program: $20 (must pre-register)
Lunch ticket add-on: $15
Parking: For a Map of Guest Parking and Sidewalk Routes to the Conference Center, click HERE.
Lunch: You are welcome to bring a bag lunch, visit a nearby restaurant in St. Joseph, or eat in the campus dining hall on the main level of the Gorecki Center. Emerging farmers are invited to a complimentary lunch session. Save time in line and buy your $15 dining hall ticket in advance when you register for the Conference!
Sessions and Other Features will be announced December 15th, 2023
Sponsor & Exhibitor Opportunities
Opening Plenary Session Sponsor
Lakewinds is a community owned food cooperative grocery store located in the western suburbs of the Twin Cities. Since 1975, Lakewinds has been providing access to local, organic, and sustainable foods while supporting local farmers and giving back to the communities we serve. No membership is required. All are welcome!
Minnesota Grown is a marketing program of the Minnesota Department of Agriculture devoted to promoting Minnesota Grown products. Over the past 35+ years, the program has become a trusted resource connecting consumers seeking local to Minnesota producers of specialty crops and livestock. Membership benefits include free marketing materials, marketing cost shares (up to $3,300 value), listings in online directories visited by more than 350,000 users per year, and more.
A look back at our 2022 conference:
Why attend our Annual Conference?