Welcome to the East Central Chapter
The East Central Chapter of the Sustainable Farming Association (SFA) is committed to advancing SFA's mission. Our emphasis is on building a farmer network to share knowledge that furthers sustainable farming practices and financial sustainability for our farmers. We believe in connecting the community to local farmers and food options through chapter meetings, farm tours, education and networking sessions.
Our chapter is made up of farmers and consumers in the general area of Anoka, Chisago, Isanti, Ramsey, Sherburne and Washington counties, the southern portion of Kanabec, Mille Lacs and Pine counties and northeast Hennepin County. Membership is not restricted to these counties; East Central Chapter welcomes all who find our mission compelling.
Contact: eastcentral@sfa-mn.org or 1.844.922.5573 Ext. 718.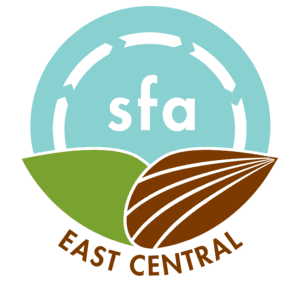 Become a Member
Renew or start your membership below.
Be sure to select "East Central Chapter" on the membership form.
Fall Chapter Meetings
Some will notice that we are meeting on a Sunday afternoon rather than a Saturday morning. We hope this will allow more members and guests to join us at these gatherings. This is our first meeting after a busy summer for our farmers and members. We are excited to get everyone together to share their successes and challenges of this this drougt-filled summer.
Advance registration not required, walkups welcome.
Sunday, December 17, 1:00 - 3:30 p.m.
Princeton Public Library meeting room, 100 4th Ave S, Princeton, MN 55371
The public meeting room entrance is separate from the library entrance.
Please join us for this meeting and potluck snacks. Attendees are encouraged to bring a snack to share; the chapter will provide beverages.
We will have two topics covered at this meeting: Farm Business Management(FBM) and Seedling Starting Techniques.
Kyle Huneke, Farm Business Management Instructor.
It is cold, snowy, your busy season is over, and you are at home bored thinking "what am I going to do this winter?" Does catching up on your records and the looming tax deadlines give you night sweats? Does this question come up a lot? "I just want to know if we aremaking money or what to charge." Whatever your motivation, Kyle Huneke, a Farm Business Management instructor, will discuss some strategies to make record keeping on your farm more efficient and streamlined this winter.
Bruce and Sharon Johnson – Minnesota Fresh Farm.
Bruce and Sharon Johnson from Minnesota Fresh Farm in East Bethel, MN will share techniques for starting seeds in the spring in preparation for your garden or produce farm business. They will share information on the best time to start your seeds either indoors or in a greenhouse, tools/equipment that are needed and other information helpful to produce growers.
Registration requested, walkups welcome
Saturday, January 27, 5:00 - 9:00 p.m.
Northern Lights Ballroom and Banquet Hall
10376 112th Ave. Milaca, MN 56353
Hear from David Abazs about Agriculture in Minnesota - challenges and opportunities in a changing world!
We will explore different agricultural approaches, sharing specifically about issues around land access, farm transitions, soils, seed ownership and control, specialty crops, marketing, finances, capital, storage, distribution, traction, energy and climate. Also, we will explore the depth and breath of societal problems and how agriculture can be "part of the solution!"
Registration: Required, no walkups. East Central Chapter members may register for free. Others may register for $35.
East Central Chapter Members – If you are a current East Central Chapter member sign into your SFA account LOGIN and then access the event registration page and register. (Note, if your membership expires before January 17, 2024, you will need to RENEW your membership before you register).
Become an East Central Chapter Member – Become a member by joining SFA and selecting East Central Chapter as your chapter of choice. JOIN HERE. When you join, create an account. While signed into your account access the event registration page and register.  Admission will be free.
Not an East Central Chapter Member – Click the registration link to register and pay the $35.00 fee.
Speaker bio: David Abazs and his wife Lise run Round River Farm and David had the opportunity to design and build Victus Farm, an aquaponics facility in Silver Bay, instigate, lead and manage the Wolf Ridge Organic Farm and initiate the design and early building years of the North Shore AgroEcology Center, Finland MN. He transitioned four years ago from those farms to become the Executive Director of the Northeast Regional Sustainable Development Partnership at the University of Minnesota. David is a former UMN Endowed Chair in Agriculture Systems and has authored the Western Lake Superior Food Capacity study and the Local Food as an Economic Driver study and continues research on Agrophenology. His greatest joy is his family, living connected to land, and imagining and leaning into a more just and sustainable country and world!
Agenda:
5:00 pm: The doors open at for registration and social time.  A cash bar is available.
5:45 pm: Buffet dinner is served
6:30 pm: Guest Speaker
8:00 pm: East Central business meeting
9:00 pm: Adjourn (sooner if business is complete)
Buffet Meal:
Garden salad (croutons and dressing on the side, gluten free GF, dairy free DF)
Chef carved roast beef (GF, DF)
Baked potato (sour cream and butter on the side, GF, DF)
Whole kernel corn (GF, DF)
Roasted broccoli (GF, DF)
Beverages: regular and decaf coffee, assorted hot tea, lemonade, water, cash bar
Dessert: Variety cakes (Triple Chocolate, White Chocolate Raspberry, Lemon Shortcake)
When you register you will be asked to share any dietary restrictions, for example, gluten free, dairy free, etc.
Scholarships
Scholarships are available for East Central Chapter members who wish to attend conferences and events to learn sustainable farming practices.
East Central Email Group
Send an email to eastcentral@sfa-mn.org and ask to be added to our email group.  This will allow you to communicate with chapter members.  All email addresses are confidential and not shared. 
Contact any of our farmers to access local farm products
Ferris Family Farm
Jon, Jessica, Rob & Carol Ferris
ferrisfamilyfarm.com
612-930-3276
Pastured Chicken, Pork, Farm Fresh Eggs
Gray Duck Farms
Stacie Mix & Shawn Kilpela
651-295-9931
grayduckfarm@gmail.com
Grass-fed/grass-finished beef, pastured heritage breed pork, free ranged pastured chickens and ducks
Honeymilk Homestead
Anthony & Johana Jalbert
www.honeymilkhomestead.com
507-450-0088
A2 Milk, Pastured Chicken, Pork, Beef, Eggs, Honey, Maple Syrup, Skin-care products
Minnesota Fresh Farm
Sharon & Bruce Johnson
minnesotafreshfarm.com
612-735-5459
Farm Stand with Vegetables, Fruit, Meats, Eggs, Honey and more
Pettit Pastures LLC
Tim & Jake Pettit
www.pettitpastures.com
612-401-6872
Grass-fed Beef, Pastured Berkshire Pork
Snake River Farms
Tom Barthel
www.thesnakeriverfarm.com
Grass-fed bison, Grass-fed beef, Pastured pork, Grass-fed lamb, Pastured goats, Ranged Geese, Ducks, and Turkeys
Third Tree Farm
Caroline Aoyama & Ryan Stubby
www.thirdtreefarm.com
415-722-8627
Naturally Grown Vegetables and Flowers