Welcome to the East Central Chapter
The East Central Chapter of the Sustainable Farming Association (SFA) is committed to advancing SFA's mission. Our emphasis is on building a farmer network to share knowledge that furthers sustainable farming practices and financial sustainability for our farmers. We believe in connecting the community to local farmers and food options through chapter meetings, farm tours, education and networking sessions.
Our chapter is made up of farmers and consumers in the general area of Anoka, Chisago, Isanti, Ramsey, Sherburne and Washington counties, the southern portion of Kanabec, Mille Lacs and Pine counties and northeast Hennepin County. Membership is not restricted to these counties; East Central Chapter welcomes all who find our mission compelling.
Contact: eastcentral@sfa-mn.org or 1.844.922.5573 Ext. 718.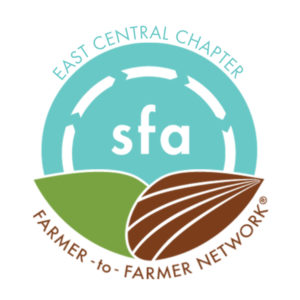 Become a Member
Renew or start your membership below.
Be sure to select "East Central Chapter" on the membership form.
Scholarships
Scholarships are available for East Central Chapter members who wish to attend conferences and events to learn sustainable farming practices.
March Chapter Meeting
Saturday, March 18, 10:00 AM
Coborn's: 209 6th Avenue Northeast, Isanti, MN 55040
The East Central Chapter of the Sustainable Farming Association is hosting a chapter meeting and potluck at Coborn's in Isanti on Saturday, March 18 starting at 10:00 AM. The meeting/potluck will be held in the Community Room on the 2nd floor.
Two recipients of the East Central Chapter Scholarship will speak about how they used their scholarship funds and what they learned.
Stacie Mix of Gray Duck Farms attended The Fall Biodynamic Intensive at The Josephine Porter Institute For Applied Bio-Dynamics in Floyd, VA where she was immersed in learning about Bio-Dynamic farming and how to make the preparations. Stacie looks forward to sharing what she learned and how she plans on incorporating these new techniques into their farm.
Trista Boe of The Salty Hen Farm attended The Aurora Blue Hide Tanning Class in Oxford, OH where she spent a hands on weekend learning every step of the basic egg and brain sheepskin tanning process. Trista plans to use these new skills in the future by providing workshops and services for local producers to help them add more value to their livestock programs.
Please register below if you plan to attend. Your registration helps us prepare for the number of people attending and knowing food will be available.
April Chapter Meeting
Saturday, April 15, 10:00 AM - Noon
Coborn's: 209 6th Avenue Northeast, Isanti, MN 55040
The East Central Chapter is hosting an "About the Coop Workshop" as well as information sharing about GrownBy in the Community Room at Coborn's in Isanti. This event includes a potluck and all are encouraged to bring something to share. It is free to attend. Registration is requested, and walkups are welcome.
Presenter: Eric R. Sannerud is the National Coop Organizing Lead for Farm Generations Cooperative. Eric serves on Minnesota's Rural Finance Authority and is a TEDx speaker. Eric Farms outside of Milaca, Minnesota with his wife and many, many animals.
Topics:
About the Coop Workshop: Take a short trip through 1900s midwest farmer cooperative actions including stories dating back to the founding of the MN state DFL, the Non-Partisan League, and more. Then engage with your community of fellow farmers around starting a hypothetical farmers cooperative! Leave inspired by the cooperative actions of our ancestors and buoyed by the challenging nature of running a farmer cooperative day to day.
About GrownBy: GrownBy is the farmer-owned online marketplace. In the last three years, over 200 farmers have sold over $2M of products direct to shoppers on the GrownBy app.
Contact any of our farmers to access local farm products
Ferris Family Farm
Jon, Jessica, Rob & Carol Ferris
ferrisfamilyfarm.com
612-930-3276
Pastured Chicken, Pork, Farm Fresh Eggs
Gray Duck Farms
Stacie Mix & Shawn Kilpela
651-295-9931
grayduckfarm@gmail.com
Grass-fed/grass-finished beef, pastured heritage breed pork, free ranged pastured chickens and ducks
Honeymilk Homestead
Anthony & Johana Jalbert
www.honeymilkhomestead.com
507-450-0088
A2 Milk, Pastured Chicken, Pork, Beef, Eggs, Honey, Maple Syrup, Skin-care products
Minnesota Fresh Farm
Sharon & Bruce Johnson
minnesotafreshfarm.com
612-735-5459
Farm Stand with Vegetables, Fruit, Meats, Eggs, Honey and more
Pettit Pastures LLC
Tim & Jake Pettit
www.pettitpastures.com
612-401-6872
Grass-fed Beef, Pastured Berkshire Pork
Snake River Farms
Tom Barthel
www.thesnakeriverfarm.com
Grass-fed bison, Grass-fed beef, Pastured pork, Grass-fed lamb, Pastured goats, Ranged Geese, Ducks, and Turkeys
Third Tree Farm
Caroline Aoyama & Ryan Stubby
www.thirdtreefarm.com
415-722-8627
Naturally Grown Vegetables and Flowers