Livestock Producer Workshop
Mar 29, 2023 12:30PM—4:30PM
Location
Baudette VFW 204 International Drive Baudette, MN
Cost $0.00
Topics grazing, Livestock, Soil Health
The Lake of the Woods SWCD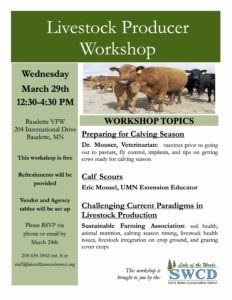 is hosting a Livestock Producer Workshop on Wednesday, March 29th from 12:30 to 4:30 PM at the VFW in Baudette, MN. This workshop will be featuring speakers and vendors. The workshop is free and open to the public.
Speakers include Dr Mouser, a veterinarian from the Bemidji area who will be presenting on "Preparing for Calving Season." Topics covered will include vaccines prior to going out to pasture, fly control, and tips on getting cows ready for breeding season. Eric Mousel, a University of MN Extension educator from Grand Rapids will present on scours. The Sustainable Farming Association will finish up the afternoon with a presentation titled "Challenging Current Paradigms in Livestock Production," a presentation about soil health, animal nutrition, calving season timing, general prevention for livestock health issues, and an introduction to livestock integration on crop ground and grazing cover crops.
Vendors and agencies will also be available during breaks to interact with attendees. Representatives from the Natural Resources Conservation Service, Farm Service Agency, Minnesota State Cattleman's Association, Northwestern Stockman's Association and others will be present.
Registration: Please RSVP by March 24th by either calling 218-634-1842 ext. 4 or emailing staff@lakeofthewoodsswcd.org
Address: Baudette VFW 204 International Drive Baudette, MN