Minnesota Premium Garlic Project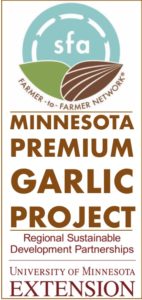 Improving garlic production in Minnesota
The Minnesota Premium Garlic Project enhanced profitability for existing and new farmers by improving premium garlic production in Minnesota through the advancement of best production and marketing practices, and by expanding markets and supply chains, while conducting field trials on improved cultivation methods.
This project was made possible by a Specialty Crops Block Grant through the Minnesota Department of Agriculture.
Project Director:
Jerry Ford, jerry@sfa-mn.org
Garlic Seed Selection Assistance
A chart of family groups of garlic Grown in Minnesota, with their attributes and examples of varieties/cultivars in each group.
See the chart HERE.
The 2023 UPPER MIDWEST PREMIUM GARLIC DIRECTORY
Click HERE to view the directory of Upper Midwest Garlic Growers have have garlic and garlic-related products for sale.
Garlic Field Trial Results
This project conducted field trials over five seasons on several MN Farms. Subjects included mulching practices, spring fertilization, scape removal, planting timing.
See the final report HERE.
More Articles & Information
Growing Great Garlic in MN Webinar
Minnesota Premium Garlic Project Goals:
Enhance the competitiveness of Minnesota Premium Garlic through increased sales
SFA intends to increase production of Minnesota Premium Garlic by adding 25 new producers, or expanding production by 50% from existing producers, with sales to existing or expanding markets.
SFA will teach producers how to grow and market Minnesota Premium Garlic, as distinguished from lower quality garlic. By teaching producers and consumers market differentiation and working with the Regional Sustainable Development Partnership to expand supply chain access and increase markets, SFA believes that the per pound can be increased by producers, especially in the more rural areas of the state.
Improve the competitiveness of Minnesota Premium Garlic through increased access.
This project will develop markets and supply chain networks in rural areas that presently have little access to premium Minnesota garlic.
SFA and RSDP will introduce the use of premium Minnesota garlic to rural groceries, institutions and restaurants, and will attempt to make it more available in rural communities so that more garlic will be consumed, and so that awareness of its availability from local growers is increased.
Increase the competitiveness of Minnesota Premium Garlic through the implementation of sustainable production practices, resulting in increased yield, reduced inputs, greater efficiency, higher economic return, and/or conservation of resources.
Workshops and presentations will be conducted at conferences and meetings, and as free-standing events. New growers will be recruited.
Enhance the competitiveness of this specialty crop with research into more sustainable, diverse and resilient cultivation and production practices.
Designated "Cooperating Farms" will conduct research on best practices for the cultivation of Minnesota Premium Garlic.  Research topics are still to be determined, but will likely include:
timing of planting
timing of harvest
pest/disease management
mulching/not mulching
foliar festilization
The results can be see HERE.
Improve the competitiveness of Minnesota Premium Garlic through enhancing or improving the economic conditions as a result of specialty crop development.
The project will enhance the competitiveness of Minnesota Premium Garlic by measuring the number of new beginning farmers who go into the producing it, as well as the number of socially disadvantaged farmers who go into producing premium Minnesota garlic The project will also recruit growers to enroll in the "Minnesota Grown" program to expand marketing and competitiveness, and will measure new enrollees as a result of its workshops and outreach to producers.
A professional video company recorded the entire field day in June 2022 at Plum Creek Garlic.
Plum Creek Garlic's garlic patch is surrounded by 34 acres of restored native prairie, woods and wetlands. Now in their 14th year of growing garlic, they are active members of the Sustainable Farming Association and follow best practices including rotation and building soil capacity over time. They harvest approximately 5,500 head each year, with five varieties for sale on their website.
Virtual Farm Tour of 5 Sisters Organics
Virtual Garlic Field Day at Coffman Garlic & Apples
All
Fact Sheets & Reports
Podcasts
Videos
Webinars