Soil health is the foundation for everything we do
At SFA, we believe that the soil is fundamental to our existence. Our health, wealth, and future depends on the ecosystem beneath our feet known as soil. The foundation of our work is promoting agricultural community and prosperity through soil health.
We build on the foundation of soil health by providing consulting and technical assistance as well as educational and networking opportunities to farmers and landowners in the areas of cropping, dairy, grazing, silvopasture, and fruit and vegetable production.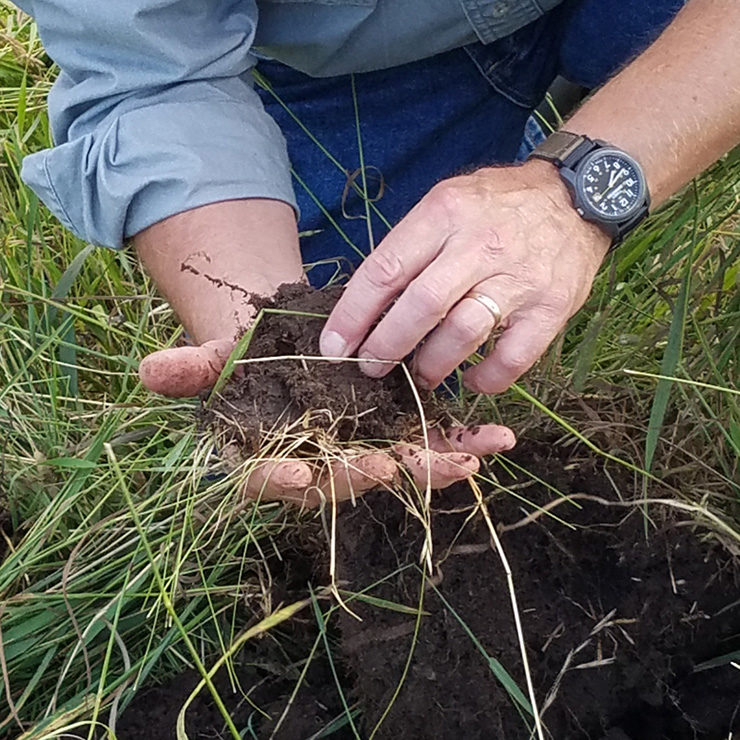 Principles of
Soil Health
Covered soil significantly reduces wind and water erosion and loss of topsoil. It reduces the evaporation of our soil moisture and protects the underground biology from extreme temperature fluctuations. After all, ecosystems arc toward covering bare soils. Planting cover crops and perennial grains are two tools for building soil health.
Disturbing soil interrupts natural systems and processes. Disturbance can be mechanical, inverting and destroying the soil structure by tilling, or chemical, which compromises soil biology. Limiting disturbance is another tool for building healthier soil.
There's power and resilience in diversity. Adding more crops to a rotation, planting cover crops during or after the cash crop growing season, or using full-season annual or perennial plant mixtures are all means of diversifying your operation.
Solar energy is captured and cycled into the soil by living plants, which feeds underground biological communities. In turn, these biological communities extract nutrients from the soil for the plants. This symbiotic partnership also creates soil aggregation and pore space for water infiltration and storage. Living roots are crucial to this cycle.
Integrating livestock rapidly accelerates the building of healthy soil. Grazing animals are incredibly efficient at creating valuable products like meat, milk or fiber while cycling essential nutrients through the land. In most cases, integrating livestock is the special sauce in optimal soil health.
Every farm is a unique entity. Soil type, historic management, weather and climate, as well as social, spiritual, and economic values, are factors that alter decisions when applying soil health principles. Without considering context, challenges and failures can be expected.
Soil Health Events
Check back for upcoming soil health events!
Soil Health Test Kit
If you would like to get better acquainted with your soil you can do some simple tests at home to gain insight into soil structure and biological properties. See the Soil Health Toolkit for directions on how to do 4 soil health tests and then use the Soil Health Report Card to record the data and see your progress over time. Thank you to Sarah Lindblom of the Crow River Chapter for creating these useful tools!
Soil Health Test Kit Directions
Soil Health Tests on our Dirt Rich podcast series - Episode 47: Four DIY Soil Health Tests with guest Sarah Lindblom. Listen to Dirt Rich at the link or wherever you get your podcasts!
See each of these soil health tests demonstrated by Sarah in this video created by Mitch Kezar of Kezar Media.
All
Case Studies
Fact Sheets & Reports
Podcasts
Videos
Webinars