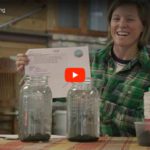 If you would like to get better acquainted with your soil you can do some simple tests at home to gain insight into soil structure and biological properties. See the Soil Health Toolkit for directions on how to do 4 soil health tests and then use the Soil Health Report Card to record the data and see your progress over time. Thank you to Sarah Lindblom of the Crow River Chapter for creating these useful tools!
Soil Health Test Kit Directions
Soil Health Tests on our Dirt Rich podcast series – Episode 47: Four DIY Soil Health Tests with guest Sarah Lindblom. Listen to Dirt Rich at the link or wherever you get your podcasts!
See each of these soil health tests demonstrated by Sarah in this video created by Mitch Kezar of Kezar Media.