This Thursday, November 16 marks Minnesota's 'biggest giving holiday.' Early givers have already rounded up a total of $10,500 for our Give to the Max campaign!
TWO Generous donors — one a Minnesota-based family foundation and the other a corporate community fund — are putting up a $20,000 match. Our lofty goal is to fully match these funds, and raise a total of $40,000 for our 2024 programming. We're 25% of the way there. Will you help us meet our goal?
SFA is known for being nimble in responding to the changing needs of farmers. In 2024, we plan to expand our programming to better serve seasoned farmers by offering multi-day, field intensives and schools that dig deep into topics like direct marketing, stockmanship, and nutrient density in food production. We plan to partner with national thought leaders to expand our understanding of these topics and others.
Farmers play a pivotal role in climate change mitigation and adaptation. The educational opportunities we provide will help farmers adapt their operations to be resilient in a changing climate. It's an investment for the long haul.
Please consider making a donation to SFA today. Early giving is underway, with the official Give to the Max Day on Thursday, November 16. All gifts will be matched up to $20,000. New to Give to the Max? Click here to see what "Minnesota's giving holiday" is all about.
Four ways to help us meet our match:
Make a donation on our GiveMN page.
Save on fees! Make a donation right on the SFA website.
Renew or become a member on the SFA website.
Share our campaign with others through email, social media, or word of mouth.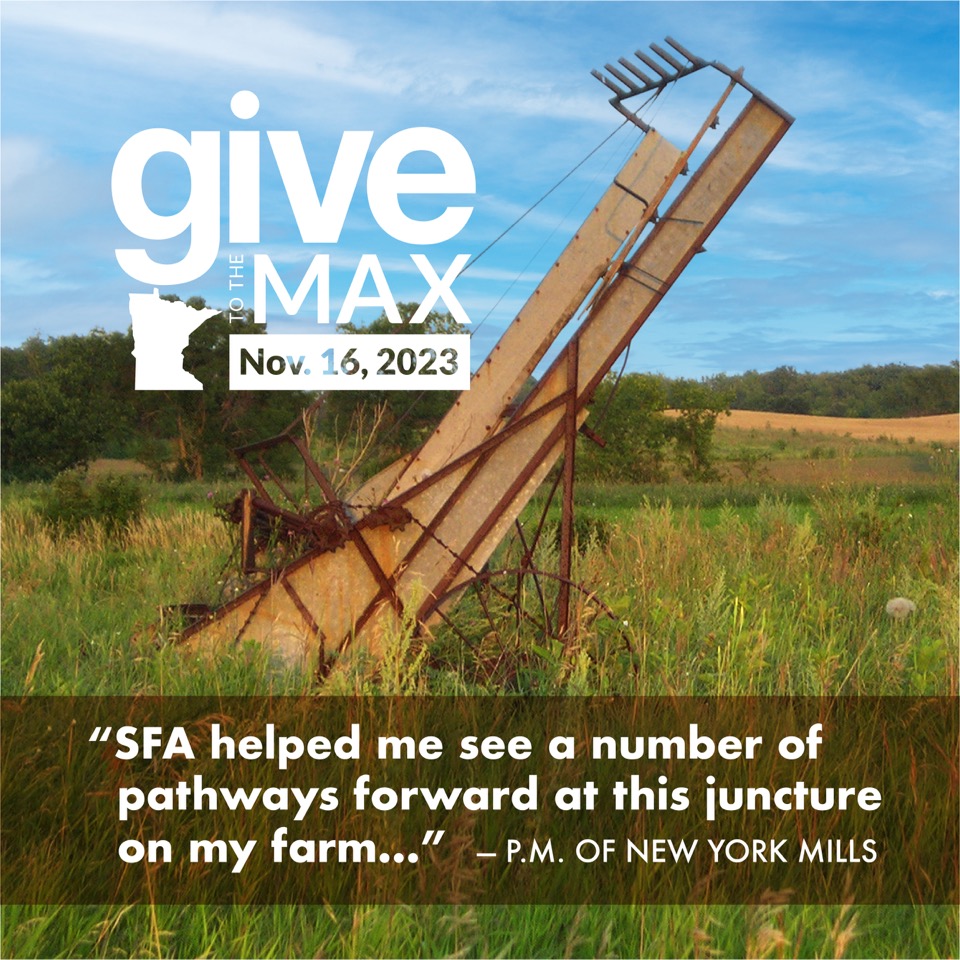 The impact of our work
Central Chapter member P.M. shared her recent experience with SFA's on-farm consulting program:
"It was so helpful to walk the land with Jonathan and see it through the expert eyes of a sustainable farming professional. I got ideas for everything from an ideal location for a high tunnel greenhouse, to grant opportunities for grazing fencing. He also pointed out a new invasive (redcedar) starting to become established, and gave ideas for how to manage the already established buckthorn.
More than anything, he helped me see a number of pathways forward at this juncture on my farm where I'm looking at ways to retire and/or transition to different sources of income. I hope to make it to some of the SFA field days to see some of these ideas in action on other successful farms."
-P.M., New York Mills, Minn.
Central Chapter member
On the latest episode of our Dirt Rich podcast series, Theresa Keaveny calls up Troy Daniell, NRCS State Conservationist. Personally, I really enjoyed listening to their…
Editor's Note: Megan Benage of New Ulm is an ecologist who works to conserve and restore prairies, grasslands, and savannas with a focus on diversity,…
Editor's Note: Megan Benage of New Ulm is the Regional Ecologist for the Minnesota Dept. of Natural Resources, where she works to conserve and restore…