Welcome to the Central Chapter
Connect with SFA Central Chapter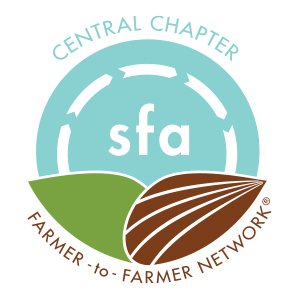 Become a Member
Renew or start your membership below.
Be sure to select "Central Chapter" as your chapter on the membership form.
Fruit Tree Workshop: Pruning and Scionwood Harvesting
Rescheduled: Sunday, March 19, 1:30 - 3:30 PM
Little Elk Organic Farm: 207 W 6th St. Randall, MN 56475
The last few years Michael Dalquist has taken a real interest in fruit trees. And when you start learning about fruit trees, inevitably you see the word "graft" show up all over the place. It's even mentioned many times in the Bible. So what is grafting, and why is it important? What does it accomplish? As Michael says, grafting is an exciting, inexpensive way to MAKE MORE FRUIT TREES!
Little Elk Organic Farm is offering three different classes related to fruit tree propagation, though at first glance the first class (pruning) may seem unrelated. But it actually leads to an essential element in grafting, the gathering of the scions. These classes will be done with apple trees, but the principles apply to other fruits such as pears, plums, and cherries, and I'll explain some of the similarities and differences.
The first class is "Pruning and Scionwood Harvesting": In this class you will learn the basics of pruning your fruit trees. Pruning is very important for training your tree to grow properly, eliminating unproductive branches, and helping prevent disease. While you're pruning your trees, you may also select scions (twigs of the previous year's growth) to use for grafting later. This class will mostly be out-of-doors, where you will be shown in person what to be looking for when pruning fruit trees, and even get to do some lopping and clipping yourself.
What to bring: Please bring weather-appropriate clothing and, (if you have them), a branch lopper, pruning saw, bypass shears, or stepladder. Children are welcome, but they must be accompanied and supervised by an adult.
This class is free to attend. Registration is requested, and walkups are welcome.
Central Chapter Board Meetings
Central Chapter board meetings are the first Tuesday of the month: October - April at 7:00 p.m., May - September at 8:00 p.m.
Locations vary, and will be held remotely for now - please contact central@sfa-mn.org.
Hosted by SFA's Central Chapter, 2022 Salsa Fest was held in Wadena -- visit the official Salsa Fest webpage HERE.
Central Chapter + SFA Annual Conference
Central member Dayle Reinke shares how her experiences at the SFA Annual Conference over the years encouraged her to grow her family farm and live their dream in this new video.