Crow Wing River Basin Forage Council Grazing School
This summer, the Crow Wing River Basin Forage Council is offering a two-day, in-depth grazing school led by regional leaders from across the Midwest!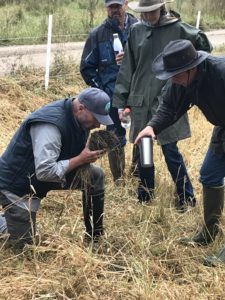 Topics will include multi-species grazing, livestock gaurdian dogs, fencing and water systems, forage availabilty and soil health, BRIX measurement and forage quality, grazing genetics, adaptive grazing principles, and more! Note that we will meet in a different location each day.
Speakers:
Kent Solberg – SFA Senior Technical Advisor, Seven Pines Farm
Issac Tappenden – Farm Manager, Green Pastures Farm, Missouri
George Heller – Owner, West 80 South Polls
Schedule:
Friday, September 15:  8 AM – 4 PM   Address: 109 1st Ave SE Verndale, MN 56481
Saturday, September 16: 8:30 AM – 2 PM   Address: West 80 South Polls, 18884 145th Ave Wadena, MN
Registration is required. No walkups will be available.
Registration is $125 for members of SFA, and $150 for nonmembers. Members, please log in first to see member pricing.
Additional people from the same farm may register for $75/person.
For more information contact:
George Heller – 218-371-6547
Jim Chamberlin – 218-831-0528
SFA staff and volunteers occasionally take photos during our workshops, cafe chats and field days for promotional purposes and to use as documentation of events to share with our funders.  If you do not wish to be photographed, please let our event host know — we'll make every effort to make sure you are not photographed.