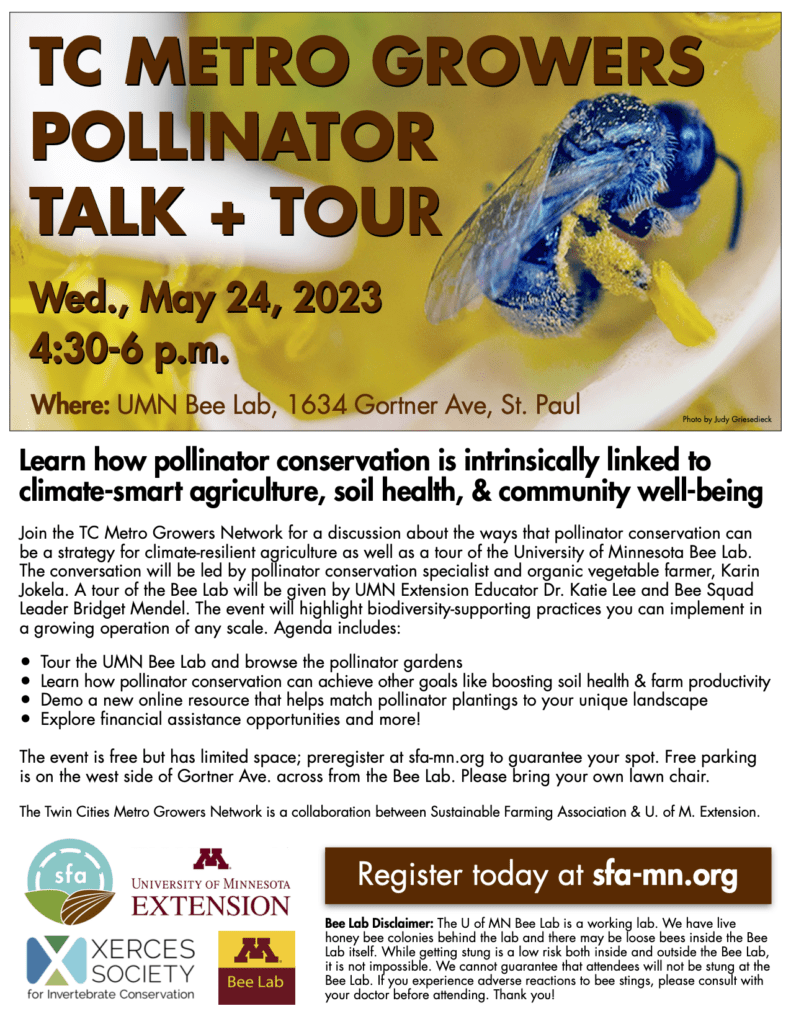 Learn how pollinator conservation is intrinsically linked to climate-smart agriculture, soil health, & community well-being!
Join the TC Growers for a discussion about the ways that pollinator conservation can be a strategy for climate-resilient agriculture, as well as a tour of the University of Minnesota Bee Lab.
The conversation will be led by pollinator conservation specialist and organic vegetable farmer, Karin Jokela. A tour of the Bee Lab will be given by UMN Extension Educator Dr. Katie Lee and Bee Squad Leader Bridget Mendel.
The event will highlight biodiversity-supporting practices you can implement in a growing operation of any scale.
Agenda:
Tour of the U. of Minnesota Bee Lab and browse the pollinator gardens
Learn how pollinator conservation can achieve other goals like boosting soil health and farm productivity
Demo a new online resource that helps match pollinator plantings to your unique landscape
Explore financial assistance opportunities and more!
Registration: This event is free to attend, but space is limited. Register online to ensure your seat.
Address: 1634 Gortner Avenue, St. Paul, MN 55113
Parking: Free parking is available on the west side of Gortner Ave. across from the Bee Lab.
Please bring a lawn chair if you wish to sit during this event.
Bee Lab Disclaimer: The U of MN Bee Lab is a working lab. We have live honey bee colonies behind the lab and there may be loose bees inside the Bee Lab itself. While getting stung is a low risk both inside and outside the Bee Lab, it is not impossible. We cannot guarantee that attendees will not be stung at the Bee Lab. If you experience adverse reactions to bee stings, please consult with your doctor before attending. Thank you!
The Twin Cities Metro Growers Network is a collaboration between SFA and the University of Minnesota Extension.
SFA staff and volunteers occasionally take photos during our workshops, cafe chats and field days for promotional purposes and to use as documentation of events to share with our funders.  If you do not wish to be photographed, please let our event host know — we'll make every effort to make sure you are not photographed.