Dirt Rich Episode 11: Herbalism for Everybody!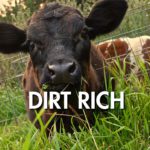 Sarah Lindblom has always grown herbs for her CSA. She started off growing some popular favorites for her shares: basil, parsley, cilantro. A workshop with herbalist Connie Karstens soon sparked an interest in medicinal herbs. She began cultivating holy basil, marshmallow, calendula, and lemon balm–just to name a few.
Now Sarah sells both fresh and dried herbs at the farmers market, as well as herbal tea blends, creating a unique value-added offering in the marketplace and through the winter. She's also integrated herbs into her soil health practices, using them to attract pollinators, keep a living root in the soil, and build plant diversity. Today she shares how she ensures she grows a quality product, the benefits of cultivating herbs that continue to unfold on her farm, and how simple it is to start growing your own herbs–whether it's in your windowsill or on your farm.