Dirt Rich Episode 4: La Vie en Rows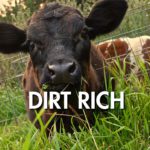 Growing in a covered space seems to be a trend for many local vegetable growers and there is good reason in our northern climate. To help measure the soil health both inside and outside of a caterpillar tunnel, farmers can use a soil health report card with four easy soil health tests.
SFA Crow River Chapter member Sarah Lindblom takes this on in her new project: La Vie en Rows. Using a Mill City Farmers Market Next Stage Grant, she constructed a caterpillar tunnel at her farm in Buffalo, Solar Fresh Produce. She has some recommendations to share on the construction process, using an infiltration test, and on occultation, a soil-health building tool that keeps the soil covered…with tarps.