Lake Superior Harvest Festival
SAVE THE DATE - September 9, 2023
10:00am - 4:00pm
Bayfront Festival Park ~ Free Admission
$10 for parking ~ Zero-Waste
A family-oriented event featuring a huge farmers market, live music all day, renewable Energy Fair, nonprofit exhibitors tent, educational demonstrations and much more!
Check for updates on Facebook!
History
The Harvest Festival is a project of the Lake Superior Sustainable Farming Association, and was founded as an educational outreach program aimed to showcase the local agricultural production of food throughout the Lake Superior region of northeastern Minnesota and northwestern Wisconsin. The goal of the event is to help promote sustainable local food production as a key component of a healthier economy, environment and community in the Lake Superior region.
Today the Harvest Festival has grown into a well attended event providing education, training and outreach in a greater effort to develop sustainable communities and economies in our region. The 1-day outdoor event attracts attendance of over 10,000 people of all ages from throughout the greater Twin Ports region.
Check out our other project, started during the 2020 Pandemic: www.RootsandRecipes.org - where you can find recipes featuring local foods, and connect to local farms.
Take a look at our home page of the Lake Superior Sustainable Farming Association and see our upcoming summer events.
New Vendors: Please fill out this form. We are allowing past vendors to sign up first, and we have strict criteria that you must comply with. Vendors/exhibitors must live and operate within Northeast Minnesota and Northwest Wisconsin- the Western Lake Superior region, and you must make/grow what you sell. Food vendors MUST use compostable service ware, and all vendors/exhibitors must strive to help us be a zero-waste event.
Returning vendors: Registration documents will be emailed soon to all returning vendors from "Lake Superior SFA". (Please check your junk mail!)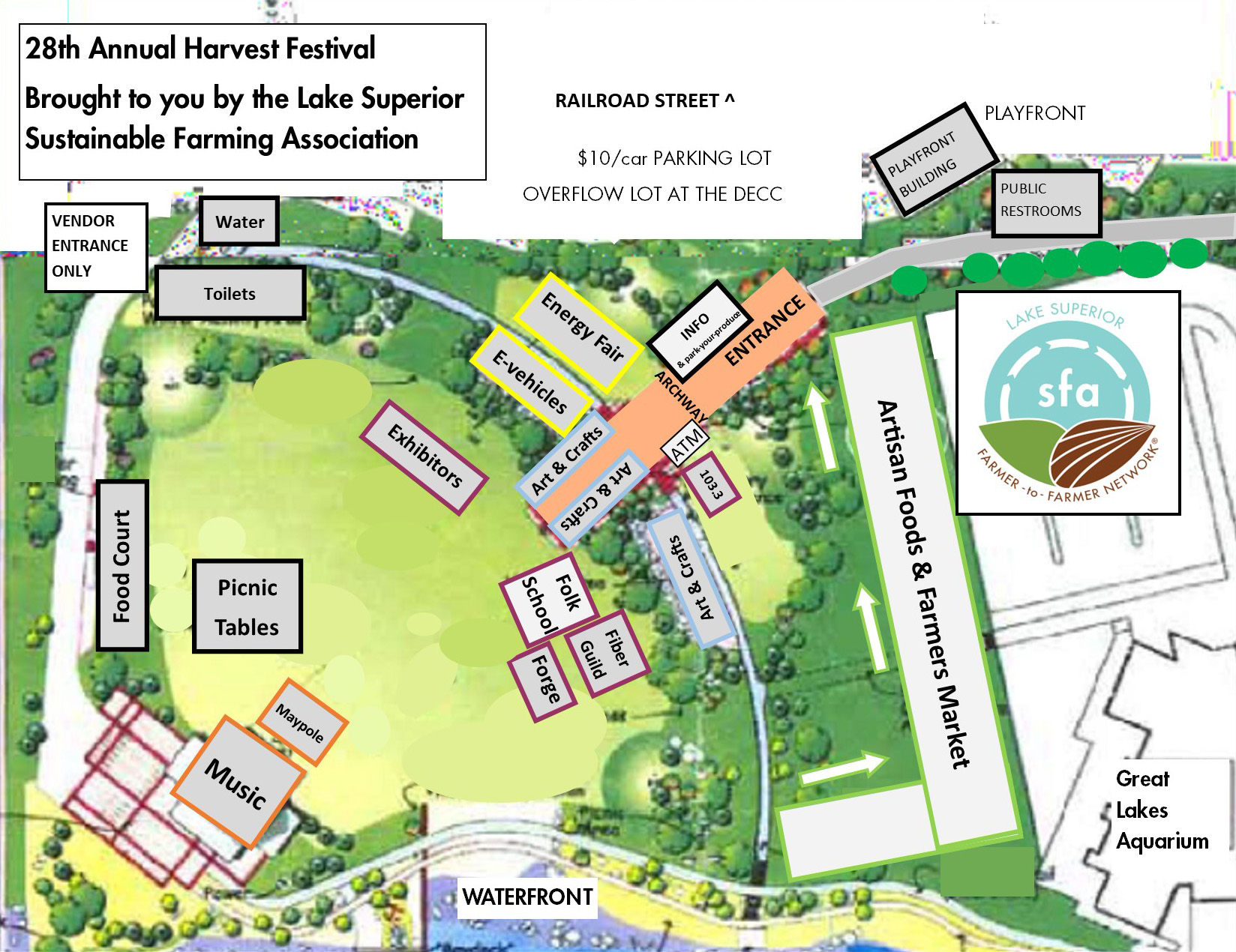 Gitche Gumme Kimchi, Duluth, MN
Golden Gardens, Willow River, MN
Sandy Hill Farm
The Energy Fair showcases renewable energy efforts in our region. Just like local food, local energy makes our community resilient and empowered! New this year, there will be appliance recycling from 11am-3pm! In partnership with Minnesota Power, there will be a FREE drop-off of air conditioning units and dehumidifiers. Appliances must be in working order. They will be recycled properly according to the EPA's Responsible Appliance Disposal (RAD) program. Drop-off location TBD, will be very close to Bayfront.
Energy Exhibitors:
Arrowhead Economic Opportunity Agency (AEOA)
All Energy Solar
Citizen's Utility Board of MN
Clean Energy Resource Teams (CERTS)
Ecolibrium 3 - Energy Fair Host
Minnesota Interfaith Power and Light
Minnesota Power
Minnesota Renewable Energy Society
Ski Hut
and Electric Vehicles will be on display!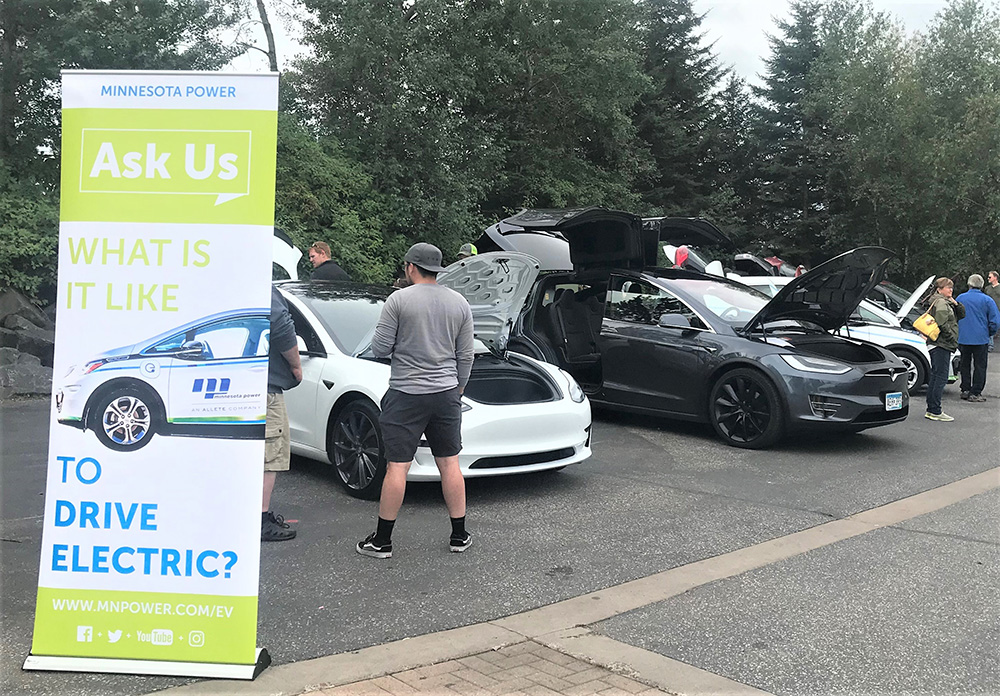 ARTISAN FOOD VENDORS 2022
Hand-made locally, these foods are packaged for you to take home and eat later. Find them next to the Farmers Market.
Bread in the Meadow - Duluth, MN
Elevated Spores - Superior, WI
Duluth's Best Bread - Duluth, MN
Fräschgoods - Duluth, MN
Karl's Bread - Mt. Iron, MN
Rustic Apron Bakery - Superior, WI
Lots of Love Sweets & More - Duluth, MN
The Norse Bakehouse (previously Swan's Sweets) - Duluth, MN
Superior Sweets - Duluth, MN
Two Harbors Baker - Two Harbors, MN
FOOD VENDORS 2022
Our food vendors use compostable utensils and containers and help us manifest a ZERO-WASTE event!
Csomos Fried Fish - Superior, WI
Duluth Coffee Company - Duluth, MN
El Oasis Del Norte - Duluth, MN
Kernel's Best Kettle Korn - Virginia, MN
Love Creamery - Duluth, MN - Sponsor
Mama Roots - Duluth, MN
Sandy Hill Ranch - Barnum, MN
Saigon Cafe - Duluth, MN
Positively 3rd St. Bakery - Duluth, MN - Sponsor
ARTISTS & CRAFTERS 2022
Products are locally produced and handmade.
AdventureUs LLC - Washburn, WI
Aonehc Aonehc - Duluth, MN
Birch Botanicals - Virginia, MN
Charmed Custom Candles - Duluth, MN
Cheers Reclaimed Glass Jewelry - Cloquet, MN
Daisy Lily Stitches - Duluth, MN
Dream Chaser Farm - Foxboro, WI
EcoCraft - Superior, WI - Area Host
EnKoos - Duluth, MN
Mittens & More - Phillips, WI
Kringle's Krafts - Two Harbors, MN
Kringle's Workshop - Two Harbors, MN
Lotus Creek Candles - Duluth, MN
MacManus Stoneworks - Duluth, MN
Marvelous Melissa - Duluth, MN - Area Host
Mother Trees Herbal Salves, Oil & Soap - Wrenshall, MN
Northland Exposures - Proctor, MN
Nuova Vita - Duluth, MN
Smiling Son Pottery & Lea's Herbal Skin Care - Washburn, WI
Stoneweaver - Duluth, MN
YB Urban? - Baldwin, WI
Maypole Dancing at 11:45 & 1:45
Terrence Smith invites you to join in the fun! In front of the music stage.
Dululth Fiber Guild - A Community of Textile Artists displaying samples of our work & demonstrating weaving, spinning & other fiber techniques. There will be a floor loom to try, plus weaving projects for children, in the Exhibitor Tent.
Forging Community - Blacksmithing
See it up close! In the bowl.
Duluth Folk School
Building Community through hand crafting! Find it in the bowl.
Pet chickens with Locally Laid Egg Co. at 11:00-2:00.
Find them just west of the Energy Fair.
Parking is $10/car. We encourage you to take public transportation, walk, bike, or carpool to Bayfront Park. There will be ample bicycle parking at the main entrance.
Overflow parking: There is plently of parking at the DECC garage for $10/car.
Step One
Choose Your Volunteer Opportunity
Duluth's Harvest Festival: Sign up HERE, or email lakesuperior@sfa-mn.org
Step Two
All SFA Volunteers must first read our Volunteer Handbook (PDF)
Step Three
We require SFA Volunteers to submit a Volunteer Release Form.
This Agreement is between you as a volunteer, and SFA, a nonprofit organization that supports sustainable farming and sustainability education in Minnesota.
Signing this agreement indicates that you wish to provide volunteer services to SFA and that you expect to receive no compensation or any other benefits traditionally associated with employment for those services.
By signing this following agreement, you grant SFA the rights to photographs, video or audio recordings of you made by SFA in connection with your volunteer services, and you agree that SFA may use or publish them.
10:00 Colleen Myhre
11:00 Woodblind
11:45 Terrance Smith's Maypole
12:15 Skarlet Woods
1:00 Ann Kathryn
1:45 Terrance Smith's Maypole
2:15 Jen West
3:00 Shane Nelson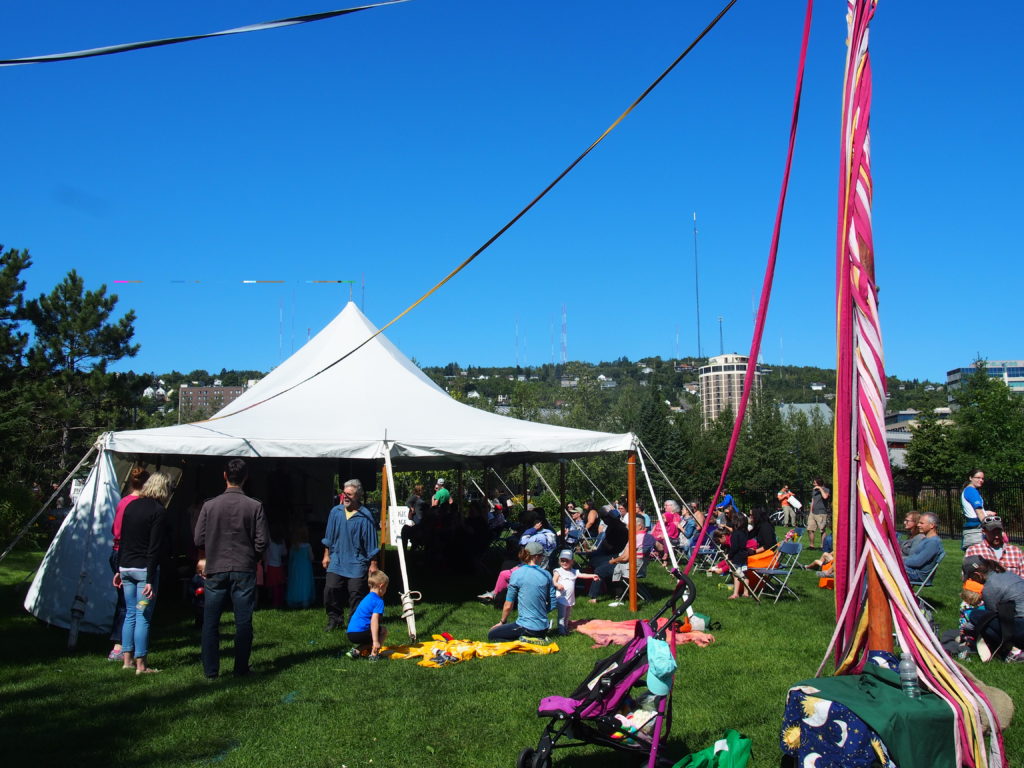 Julie Allen
Harvest Festival Director
LS-SFA Chapter Coordinator
1.844.922.5573 Ext. 709. - Call and leave a voicemail.
Email: lakesuperior (at) sfa-mn.org
Harvest Festival Location:
Bayfront Festival Park, Duluth MN
350 Harbor Dr, Duluth, MN 55802
Land Acknowledgement
As the Lake Superior Sustainable Farming Association, we acknowledge that we are on the traditional Indigenous land of the Lake Superior Anishinaabe. We recognize the Treaty of 1854 which established the ceded territory of the Lake Superior region, which connects us all through this beloved land, our good food, and our shared community. Miigwetch!