Urban Roots Farm Tour and Soil Discussion
Twin Cities Metro Growers Network event, September 11, 2023
Writing and photos by Lia Spaniolo, University of Minnesota Extension Educator
"Prepping the beds" and "harvesting" are Nana's and Malachi's responses when asked about their favorite farming activity on the farm. They both are youth interns who work at Urban Roots, a non-profit organization based on the East Side of Saint Paul, to grow fruits and vegetables for sale at local farmers markets and in community supported agriculture (CSA) shares. Nana and Malachai shared with our tour group that through working with Urban Roots they have developed more confidence in farming, talking with other people and how to be successful at work. Their stories exemplify Urban Roots' mission: to cultivate and empower youth through nature, healthy food, and community.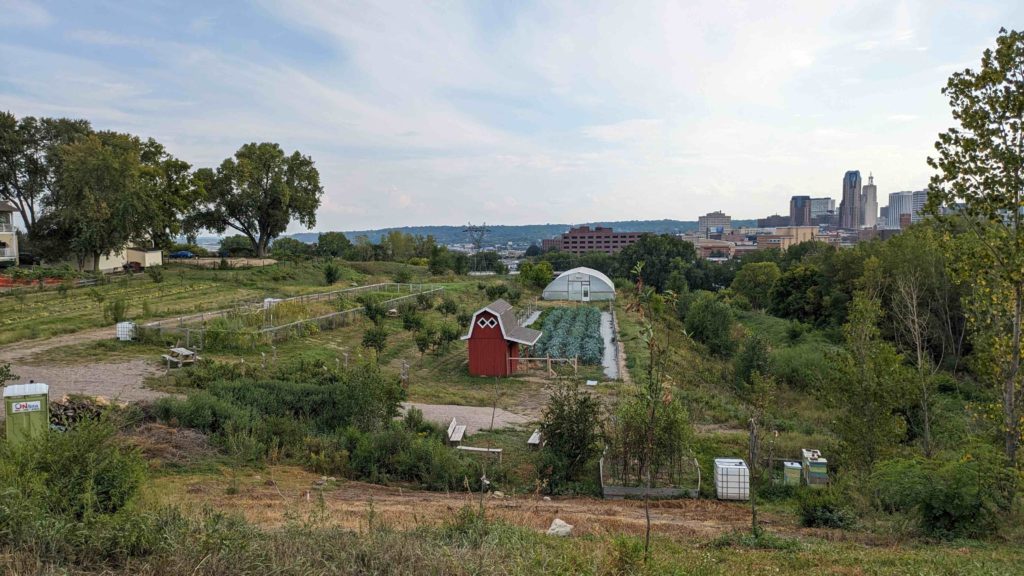 More than twenty people gathered on a beautiful September evening at the hilltop of Rivoli Bluffs Farm and Restoration Site, one of five urban garden sites where Urban Roots grows fresh produce for the local community. Skyler Hawkins, Urban Roots' Market Garden Farm Director, led the group around the five-acre site where about ¾ of an acre is in active production. The rest of the land is undergoing ecological restoration efforts that point to the site's storied history.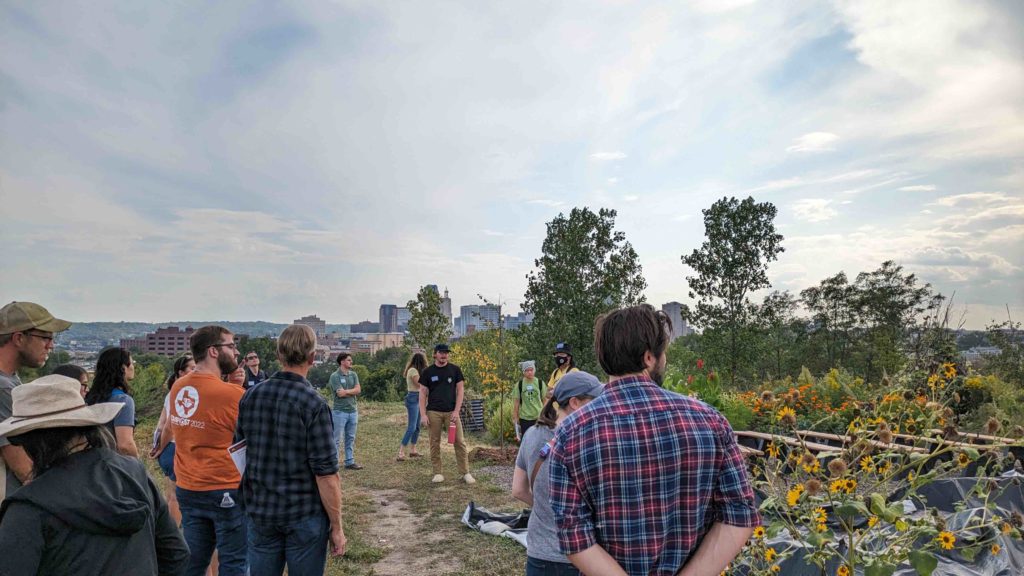 In the 1870s, the area had been used for railroad housing and repair. By the mid-1900s, it became a street sweeping dump site. Pollution control and remediation efforts began in 2008, and ten years later the first orchards and gardens were planted and hoophouse installed. Today, the airport flight path overhead restricts housing development, and the city has given Urban Roots a seven-year lease to farm on the land. Now they are sorting out financial, legal and logistical challenges of installing a more efficient irrigation system than the complex network of hoses and timers connected to nearby fire hydrants.
As expected from its past uses, the soil is also heavily compacted making it a challenge to grow edible plants. Along the slopes, invasive Siberian elm trees have been replaced with native species that add pollinator habitat, buffer runoff and anchor the soil. The compacted soil on the hilltop was planted this year with drought-tolerant Japanese millet to suppress weeds and to start to break up the hardened clay.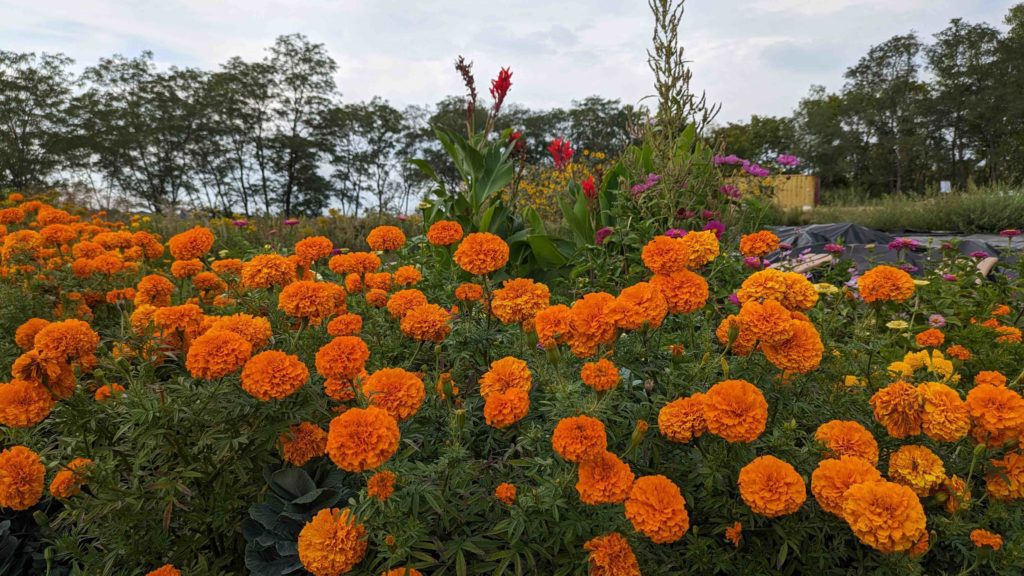 But the tough conditions on parts of the site are not visible in other areas where the variety and vigor of plants abounds. Skyler showed us the children's sensory garden filled with bright orange marigolds, winter squash interplanted among rows of fruit trees, and the hoophouse filled with watermelons behind a large field of broccolini. The community garden plots are grown by neighbors to the site; one community gardener could even be heard calling "Welcome!" to our group from the balcony of the multigenerational housing adjacent to the garden.
Other groups also grow at Rivoli Bluffs: growers from CLUES are trialing sesame plants in their plot where the flowers were a welcome treat for the butterflies and a surprise to many of us on the tour to see this tropical crop growing in Minnesota. Land stewards through Wakan Tipi Awanyankapi also tend to plants here and have taught on the beneficial uses of stinging nettle. Agricultural knowledge runs deep in the Twin Cities, and at Rivoli Bluffs, plant and people relationships are being forged through learning and growing alongside one another.
The tour wrapped on the hilltop with an engaging discussion of soil health practices, led by Natalie Hoidal, University of Minnesota Extension Educator for local foods and vegetable production. Natalie and Skyler shared their collaborative research project as they sought to learn the best way to manage Rivoli Bluffs' soil. Since 2021, soil tests were taken twice a year at Rivoli Bluffs and data was tracked over time. Through the process, Urban Roots staff learned that more compost does not always mean better soil health. In fact, overapplication of compost can cause detrimental effects like too much phosphorus, organic matter, soluble salts and increased soil pH, which is what the data showed after previous applications of compost. In the years following, soil nutrient levels mostly recovered, but the pH still hovers above optimal growing conditions for most crops. While compost is often an easy-to-access source of nutrients, farm managers should take caution to avoid applying too much.
As the sun began to set, the group continued a lively discussion about different soil management strategies and agreed that ultimately each site is unique. A single management recommendation cannot be made for all farms. Except for one: production farms would benefit from regular soil testing to better understand nutrient levels and how they change over time. Learn more about how to take a soil test and submit it for analysis through the UMN Soil Lab at soiltest.cfans.umn.edu. A regular test costs $19.
The Twin Cities Metro Growers Network is a collaboration between the Sustainable Farming Association and the University of Minnesota Extension. For questions, comments or suggestions, contact Twin Cities Metro Growers Network coordinator Lia Spaniolo at spaniolo@umn.edu or visit https://sfa-mn.org/twin-cities-growers-network.